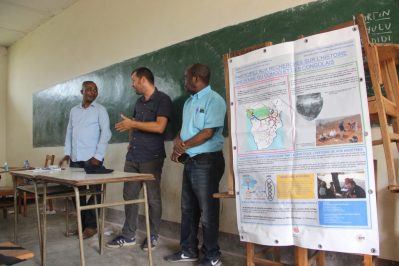 Explaining BantUGent research at ISP Kikwit (DRC), August 15, 2019, from left-to-right: Joseph Koni Muluwa, Koen Bostoen & Léon Mundeke (© Sara Pacchiarotti)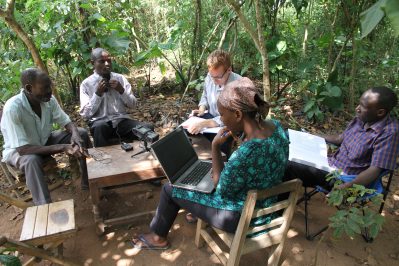 Doing fieldwork in Busoga on Lower Nyole, January 16, 2016, circling clockwise: Hamba Baziriyo and Wangira Noah, Michael Marlo (Missouri U), Deo Kawalya (Makerere U) and Minah Nabirye (BantUGent) (© Gilles-Maurice de Schryver). The research was published in the following paper.
BantUGent has several scientific partners across Africa, America, Asia and Europe, both through personal contacts with fellow researchers and on an institutional basis.
Africa
Burundi
Democratic Republic of the Congo
Department of Historical Sciences, Kinshasa University (UNIKIN)
Department of Historical Sciences, Lubumbashi University (UNILU)
Institut Supérieur Pédagogique de la Gombe, Kinshasa
Institut Supérieur Pédagogique de Kikwit, Kikwit
Institut Supérieur Pédagogique de Mbuji-Mayi, Mbuji-Mayi
Kenya
Namibia
South Africa
Tanzania
Uganda
America
United States of America
Asia
Japan
Europe
Belgium
France
Germany
Netherlands
Sweden
UK